Downtown St. Pete Vet Clinic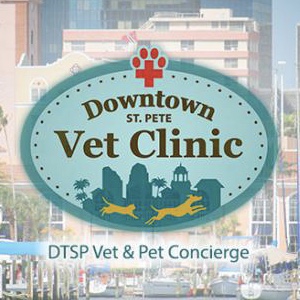 Our highly educated, trained, and enthusiastic veterinary staff are all dedicated and committed to providing the best, most compassionate veterinary care, and to improving the life of your pet. We love our patients and care for them as if they were our own.

We endeavor to shatter the common notion of what an animal clinic should be, and to create a life experience for pets that combines love for animals, great health, and a fun new vibe! Yes, a different type of animal hospital, located in the heart of downtown St. Petersburg.

We treat your pets with advanced medical care and offer measures to prevent potential health problems in the future. We empower our staff to go above and beyond the commitment to educate you in the best care for your pet, and to help you customize a treatment or prevention plan according to each individual's needs. Our services are scheduled, but we also offer emergency services without an appointment to make sure your pets are given the proper care they deserve.

Our doggy day care service is available for those who want to drop off their dogs while they work, shop, or dine during the day; and we provide an exciting place for your pets to play in a clean, closely-supervised environment. Your dogs also have the opportunity to enjoy a state-of-the-art bathing tub, and then to strut their stuff downtown after visiting our caring, experienced groomers.

Here at Downtown St. Pete Vet Clinic, we combine sound medical expertise, exceptional client service, and a deep passion for animals to create a veterinary care experience that is truly unique. However, if your pet should ever need more in-depth care or surgery, rest assured that the support team at our sister practice, Northeast Animal Hospital, is ready to see your pet.
---
Address:
111 2nd Ave NE Suite 113
Saint Petersburg, FL 33701