The Refillery LLC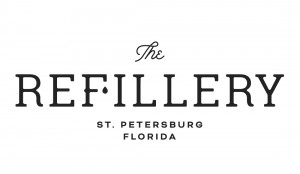 We are St. Pete's newest refill and eco-friendly boutique in the Tyrone Square area. We can refill your laundry detergents, household cleaners, dish soaps, hand soaps, shampoo, conditioner, toothpaste, lotion, and more!

Our products are safe for people, the planet, and will save you money. We are your source for products to help you lead a more reusable lifestyle.

Our DIY table can even help those individuals who would like to make their own deodorant, toothpaste, hand sanitizer, bath salts, facial masks, and other DIY skincare proucts. With our bulk refillable products you can buy as much or as little as you need.

Bring in your own empty containers or purchase from our selection of reusable containers when you arrive. We also have a small selection of "free" containers that have been donated by others.

Hours:
Monday - Wednesday 10a.m. - 4p.m.
Thursday-Friday 11a.m.- 7p.m.
Saturday 10a.m.-5p.m.
Sunday CLOSED

To learn more, visit us online at: http://therefilleryfl.com.
---
Address:
7490 30th Avenue North, Suite B
St Petersburg, FL 33710
---