(swah-rey)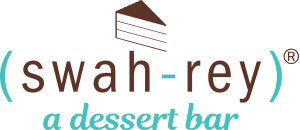 In 2015, (swah-rey), St. Pete's Only Dessert Bar opened its first location with the plans for exceptionally tasty desserts and amazingly kind service.

(swah-rey) quickly became THE spot for locals and tourists alike to come for scratch-made desserts, paired with alcoholic or non-alcoholic beverages including wine, beer, prosecco, coffee, tea, sodas, milk and others.

(swah-rey) specializing in Mini cupcakes in 19 differently designed flavor combinations. Each Mini is beautifully handcrafted and perfectly delicious. We sell boxes of 4, 8, 25 or 36 Minis and Catering Tray of 40 or 90 Minis.

Two retail locations:
The original (swah-rey) is located at 2105 Central Ave location is open Thursdays, Fridays and Saturdays beginning at 12Noon, is Full-Service and welcomes people and their dogs.

The second (swah-rey) is located at 625 Central Avenue. Open seven (7) days a week beginning at 11am with an emphasis on Grab 'n Go desserts and beverages. This location is more convenient to downtown activities in St. Pete including the Dali and MFA Museums and Beach Drive.

We provide the desserts for many St. Pete restaurants and will soon be selling our desserts and beverages online with our own App and shipping nationwide.

Our 3rd & 4th retail locations in St. Petersburg will open in early 2020. #3 will be at St. Pete College, Gibbs Campus and #4 will be on Central Avenue. Stay Tuned!

Leslie Ann, the Founder of (swah-rey), a woman entrepreneur, a military veteran, a 30+ year Air Traffic Controller and a lover of St. Petersburg. Leslie Ann has been chosen as a Tory Burch Foundation Fellow for 2019 and a Goldman Sachs 10,000 Small Business Program Participant. She has been a featured speaker on Kindness in Business for Working Women Tampa Bay and on numerous podcasts including The Garnish Podcast and the Small Business Hiring Podcast.
She is married to Gregg Ciccone and they work full-time in the #swahrey dessert business together.

(swah-rey) has been featured in local and national print and television spots, including the Cooking Channel, Cheap Eats, Tampa Bay Times, Bay to Bay Magazine, The New Barker, The Insider NYC, ABC Morning Blend Tampa Bay, CBS WTSP Tampa Bay, Fox 13 Tampa Bay, among others.

Community Giving-Back includes Southeastern Guide Dog Organization, Ronald McDonald House, Pet Pal, Navy Seal Foundation, CASA, SPCA Tampa Bay, and daily discount for local Law Enforcement, Fire Departments, City Employees and Military Veterans.
---
Address:
2105 Central Avenue
St Petersburg, FL 33713
---