Hideaway Cafe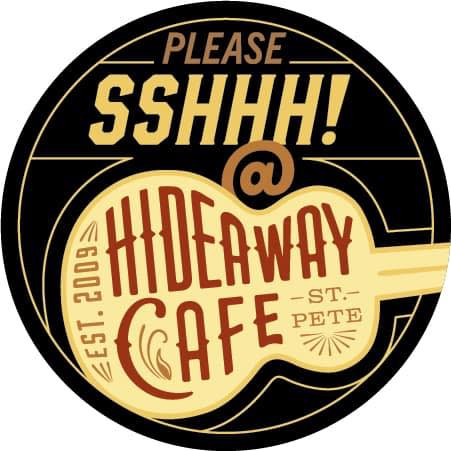 The Hideaway Cafe & Recording Studio is an original music venue offering craft beer & wine and a simple, yet mouthwatering menu of flatbreads, pizzas, salads and sandwiches. The Hideaway Cafe was created by local musician, John Kelly, and his wife, Nicole who (coming from their meeting place of Nashville) sought to shine a light on original music in their new home of St Petersburg. Come catch an original (often live-recorded) showcase from the most talented local & nationally touring musicians.



We are open Wednesday-Saturday (and every 2nd and 4th Tuesday, with special events likely to show up on any other given calendar day). Kirk Adams Band kicks off the week with his every-other-Tuesday showcases. Every Wednesday is Blues Night hosted by Kid Royal (every 1st Wednesday), TC Carr (every 3rd Wednesday) and Betty Fox (2nd & 4th Wednesday). Every Thursday offers up our award winning Open Mic Night, aka "Living Room Live" Songwriters' Night hosted by Rebekah Pulley and featuring local singer/songwriters and inviting newcomers to the music scene and seasoned veterans alike to offer up their original material. Come sign the list and share your ORIGINAL songs or join the audience in taking in St Pete's finest display of musicianship and collaboration. Fridays and Saturdays are dedicated to ticketed showcase events. Be a part of history in the making as many of these events turn into live recordings for our artists and oftentimes, if you stick around, the evening will end with an intimate "guitar at the bar" session. Whatever the case, it is the most up-close-and-intimate experience you can find with musicians sharing their gift with a truly appreciative listening audience. Doors open at 6PM, so come early to grab a good seat, a bite to eat and toast to good music with good friends. On Wednesday, music starts at 7:30, Thursday music starts at 7. Most shows are doors @ 6, show @ 8. Check hideawaycafe.biz or our Facebook events tab for details. And come support original music in this great city of ours!



Ask about our production facility and see what we have to offer in the way of audio/video recording of your next big project. Countless local and national artists have recorded their albums at the Hideaway Recording Studio, which is a whole other world residing "behind the scenes" at the Hideaway Cafe. Also ask us about renting our facility for your special music-centric event! We have hosted many a milestone birthday here, CD releases galore, movie shoots, and even a few weddings!
---
Address:
1756 Central Avenue
St Petersburg, FL 33712
---