Hideaway Cafe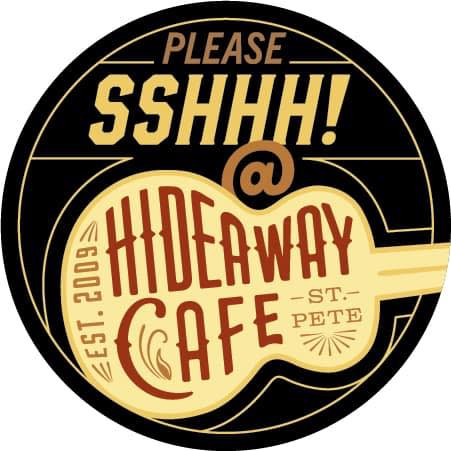 The Hideaway Cafe & Recording Studio is an original music venue offering craft beer & wine and a simple, yet mouthwatering menu of flatbreads, pizzas, salads and sandwiches. The Hideaway Cafe was created by local musician, John Kelly, and his wife, Nicole who (coming from their meeting place of Nashville) sought to shine a light on original music in their new home of St Petersburg. Come catch an original (often live-recorded) showcase from the most talented local & nationally touring musicians.



In 2020, Hideaway Cafe pivoted and took their music venue online during the 6 months of shutdown with hideawayAtHome.com - those free live streams came to an end on October 1 when streaming rules changed and government mandates shifted. Now, we're in the position of fighting to keep the music alive - in person and in the safest way possible with limited capacity and open doors - even some outdoor events. Going forward, we have several new "givens" on the weekly calendar, which can be seen on our original website - HideawayCafe.biz. Every Wednesday serves up the blues on our stage - with the Kid Royal Band. Join Josh Nelms, Jake Winebrenner & Vinnie Sepleski every 2nd and 4th Thursday (with a special guest). Every Friday starts with our award winning Open Mic Night hosted by John Kelly and featuring local singer/songwriters (just bring your own mic and gear as we continue to keep everyone safe and distanced)…followed by the Kirk Adams Band taking you into the night. Every Saturday afternoon, join us for some music al fresco with our #SaturdaySidewalkSeries - currently rotating between Gale Trippsmith & Joey Interrante AND Boho Sideshow. All recurring weeknight shows mentioned above are FREE with donations appreciated. Every Saturday night, we continue with our limited LIVE ticketed shows. Tickets for these can be purchased at hideawaycafe.biz or from our event tab on facebook. Masks are currently required at all times inside, except when seated.


We hope you enjoy the love we've put into reinventing and making it through this uncharted territory. Be a part of history in the making as many of our events turn into live recordings for our artists and oftentimes, if you stick around, the evening will end with an unexpected "guitar at the bar" session. Whatever the case, it is St Pete's most intimate experience you can find with musicians sharing their gift with a truly appreciative listening audience. Doors open at 6PM (except for Saturday which gets kicked off at 2pm), so come early to grab a good seat, a bite to eat and toast to good music with good friends and help support original music in this great city of ours!



Ask about our production facility and see what we have to offer in the way of audio/video recording of your next big project. Countless local and national artists have recorded their albums at the Hideaway Recording Studio, which is a whole other world residing "behind the scenes" at the Hideaway Cafe. Also ask us about renting our facility for your special music-centric event! We have hosted many a milestone birthday here, CD releases galore, movie shoots, and even a few weddings!
---
Address:
1756 Central Avenue
St Petersburg, FL 33712
---