Jenkins Law P.L.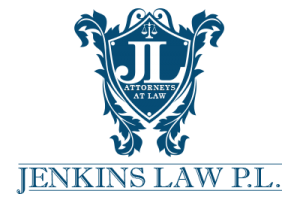 Through exceptional client communication and a team based approach, Jenkins Law alleviates the fear and uncertainty which exists following an accident, arrest, or loss, giving our clients security and protection. Our clients gain piece of mind amid the chaos.

Jenkins Law P.L. is a small, St. Petersburg law firm which specializes auto accidents, cycling accidents, pedestrian accidents, and homeowner's insurance claims.

Personal Injury: If you've suffered an injury due to a car accident or cycling accident, Jenkins Law P.L. can help. Our law office understands what you are going through, and we are here to help you navigate the complicated legal maze. A car accident can result in egregious medical bills, lost wages, and considerable pain. Don't go it alone in your quest to obtain compensation. Our personal injury attorneys can take on the claims and lawsuit processes so that you can focus on improving your health.

Insurance Claims: If your home has sustained damage and the insurance company refuses to pay for the damage according to the terms of your homeowners insurance policy, Jenkins Law P.L. can help. All too often, the insurance companies delay paying their claims, deny legitimate claims, or under pay their claims. Insurance companies have experienced adjusters and attorneys working on their side to help the insurance company save as much money as possible.
---
Address:
275 96th Ave. N., Suite 5
St Petersburg, FL 33702
---