For nearly a decade we've worked hard to Keep St. Pete Local. We've helped to make supporting our locally-owned, independent businesses an integral part of St. Pete's identity.
Now more than ever, our businesses, and the friends and families they sustain, need our support!
Keep St. Pete Local, in partnership with Gaunce Law (Employment & Business Attorneys), has compiled a list* of nearly 300 of our local businesses' online shopping websites (* Find preferred link to list and notes about the list below *). Our local businesses are making herculean efforts to serve our community during these confusing times. It's important to point out that many of them didn't have websites with online shopping, just a few weeks ago in the pre-COVID-19 world! Because our community has heeded KSPL's call to support them all these years, they've been able to see all of your lovely faces in their shops, or at markets, and events (such as Localtopia) ... until this. Now, on top of everything else they're having to handle, our local business owners (who already wear many hats) have had to take a crash course in how to create new websites to better serve you. Some of them are simply using their Facebook or Instagram platforms to sell. Alas, some of them still don't have an online option. Not all of them can ship, but many of them are offering curbside pick-up and/or local delivery. Keep all of this in mind as you visit their sites or social media platforms. They're just trying to find a way to stay in business through all of this.
We're not just going to urge you to Think Local First for your online shopping needs, we're going to implore that you do so, now more than ever. Before you go to Amazon, or any of the big box stores' websites, please consult this list* to see if you can buy what you need, or a comparable product, from someone right here in St. Pete.  Amazon doesn't donate to your favorite causes, or sponsor your kid's little league, or soccer club, or their school, or our local events. Our local businesses have always given back. We need you to support them now, so they're here to support our community during this, and after this.
Remember, every dollar you spend is a vote for how you want the world to be, and who you want to control it. What makes St. Pete unique, and special, is that the majority of our shops (and restaurants) are independent, not national chains. It will be devastating if our local vibe is forever changed because we didn't support our indies now, and what we're left with when this is all over, is Anytown, USA. Further reading on this HERE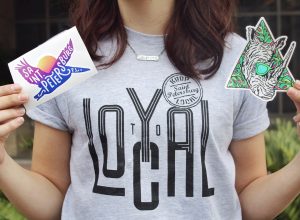 * Please note 
ALL

of the following regarding

the list* you'll find at the end

:

This list* has taken KSPL over a week to compile, and also includes many businesses that are not KSPL members. We have done this for the benefit of the community, because 1) it's part of our Independent Business Alliance's mission to help to build a thriving local economy (and that is in peril now), and 2) because we believe we're all in this together, as our mission is also to work to build a unique community. We thank all of those who are supporting, and pointing our community to our local businesses at this crucial time. We would love for as many of you as possible to consult this list, and to share this list! It will be regularly, and automatically updated with more businesses (to learn how to be added, please keep reading). However, we do have a small favor to ask ...
When sharing the list, we ask that you please honor our mission, and our efforts, 👉 by sharing either this whole blog post or THIS LINK HERE: bit.ly/keepstpetelocalonlinenowmorethanever 👈, which includes all of this important background + the link to the list at the end. We are the first organization to have taken the time to compile such an extensive list, and would greatly appreciate you crediting Keep St. Pete Local whenever it is shared, or used as a resource.

We also ask that if you do make any purchases from anyone on the list, you please let the business/es know you learnt about them via KSPL

.
Our name, Keep Saint Petersburg Local, has become part of our city's lexicon. The more that it is used or tagged (#KeepStPeteLocal) at this time, the more it can serve as a rallying cry. Thanks for helping us to Keep St. Pete Local, now more than ever! You can learn more about KSPL HERE
This list* does not include local restaurants, of which there are hundreds in St. Pete. We had been sharing social media posts about which ones are open for take-out/delivery, but this is changing on an almost hourly basis. We do recommend that you use their own delivery services, if available. When you do, they're able to continue to employ staff, or bring some back. Some food delivery companies may be offering free delivery, but the restaurants are still charged 20-30%. FYI - Urban Brew and BBQ has started a grocery program (sign up on their site to receive the grocery list), and The Pesky Pelican Brew Pub is now also selling provisions and some essentials.
This list* is not an exhaustive list intended to include every local business in St. Pete. There are certainly more businesses that should be on the list, but we had to start somewhere, and these represent nearly 300 of your faves. Categories include: Artists & Craftsmen - This is the largest category with 60+ listed, and also includes handcrafted jewelry. Many of them sell at markets & events, so their main source of income has been lost. | Books, Cards & Stationery | Breweries (see note about why below) | Clothing and Accessories | Food and Drink: baked goods; coffee & tea bags + cold brew coffee; ginger beer, keffir, and kombucha; gourmet oils, seasonings, and flavorings; honey; non-restaurant locations with beer & wine to-go you can order for pick-up and in some cases, local delivery | Eco Home Essentials / Zero Waste Stores | Footwear | For Kids | For Men | Health and Wellness / Virtual Classes | Home Decor and Gifts | Local Produce | Non-Profits | Pet | Plants | Printing | Record Stores | Skincare and Haircare | Specialty Retail 
This list* may not be the fanciest, but it was created in a way that will allow us (with our limited resources) to add to it easily, and for it to always show the most up-to-date version. ***

To be added to the list

: *** Please email keepsaintpetersburglocal@gmail.com (must include subject line: KSPL Online Shopping List) and provide your Business Name, Link to Website, Preferred Email and Contact Phone Number (if any) for orders and any questions. Please also let us know if you are offering any specials, deals, and/or any other info related to orders. Finally, if you are a brick-and-mortar business, please provide your full address, including zip code. Please note that your business must be an

independent

business, based in the City of St. Petersburg, offering online shopping, or ordering capabilities. (No restaurants at this time) Definition of what an independent business is for KSPL HERE  *** We reserve the right to exclude certain submissions, and those which do not meet the criteria in the definition above. Also, all those who wish to be on the list must comply with CDC and all federal, state and local guidelines, such as social distancing guidelines and "safe at home" orders.***
This list* does include our local breweries. Most of them are open for you to buy their beers to-go, and some of them are asking that you pre-order online before coming to the brewery. Some also sell merch online, which is another way you can support them right now.
Even if a business is not on the list*, we encourage you to look for ways to support your local favorites (e.g. shop their websites, buy their gift cards, leave them glowing reviews, reach out to the owners and staff to see what they may need – you may be able to offer them your own services for free)
FIND THE LIST HERE *
"Stay Home" Mural by Leo Gomez Studio